Warning - superb rogaining ahead!
Updated: 26 September, 2015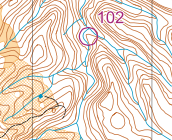 What:
2015 Australasian Rogaining Championships
When: 10-11 October 2015
Where: About 4 hours west of Sydney and 5.5 hours from Canberra
For who: Everyone who enjoys great rogaining country - young, old (ah - we mean *experienced*), novice, sharpshooter...everyone!
Entries close: Friday 2 Oct at midnight (the end of Friday night...).